JAMYANG KHYENTSE WANGPO (1820-1892)
"Great chariot of the entire Buddhist teaching, Spiritual friend caring for students without distinction, Free from doctrinal bias, crown jewel of all teachings, I supplicate you!"
– Jamgön Kongtrul Lodrötaye
Jamyang Khyentse the Great, born in 1820, was regarded as an exceptional master – a scholar, mystic, author, and meditator par excellence. In his youth he travelled all over Tibet, receiving innumerable spiritual teachings, including lineages that were almost extinct. He is known to have studied with over 150 of the greatest Buddhist masters of his day. In his late thirties he retired to a small room in the Sakya monastery of Dzongsar, near Derge in eastern Tibet, where for the remainder of his life he practised and mastered the teachings he had received. In many cases he revived the lineage, writing commentaries and passing on the instructions to individuals capable of holding them. He was regarded as the last of the Five Tertön Kings who were prophesised by Guru Padmasambhava in the 9th century, and he held the Seven Transmissions of treasure teachings. His collected works consist of 35 volumes, covering all aspects of mysticism and scholarship, and he also worked closely with his student and colleague, Jamgön Kongtrul Lodrötaye, on that master's famous Five Treasuries.
He was an authority on all the different teachings of Buddhism in Tibet, as well as the pre-Buddhist Bön teachings. Shunning sectarian bias, he encouraged his students to appreciate the profundity of all the existing traditions. This approach became known as Rimey, or the nonsectarian approach. He passed away in 1892, predicting that he would reincarnate in several forms.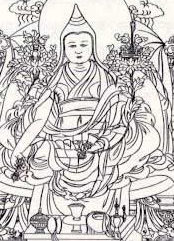 Besser als jede Bank
Wir brauchen deine Unterstützung! Die kann in Spendenform sein oder in Form von Mithilfe in ausgewählten Bereichen. Wenn du Lust und Zeit hast mitzuwirken, melde dich oder spende eine Summe deiner Wahl, um unsere Projekte zu unterstützen. Wir sind für jede Hilfe dankbar!
€
jetzt spenden