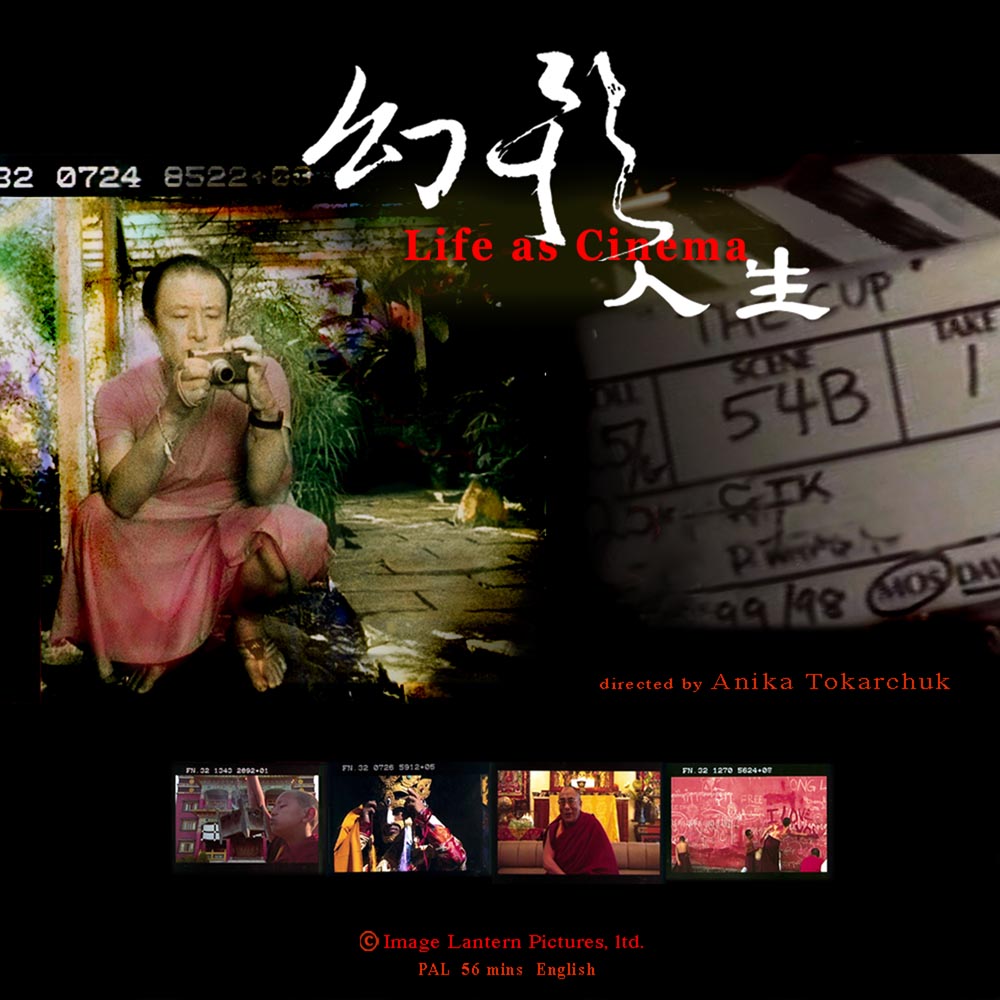 Sprache: Englisch
Anika Tokarchuk
follows the zany movie-making antics in the making of 'The Cup' – an internationally acclaimed film about refugee monks obsessed by football.
Directed by reincarnate master Khyentse Norbu, acted by monks, filmed on location in India at Tibetan monasteries, it opens a truly unique Buddhist view on the life of football loving monks.
Based on real events, it illustrates a Buddhist puzzle about reality.Is life real? Or just like cinema, a creation of the mind?
The Cup'
finelinefeatures.com/thecup/frameset.html
www.ibff.org/index.cfm
Khyentse Norbu
www.siddharthasintent.org/about.htm
A documentary with an unusual look at reality and illusion
Life as Cinema discovers a new Tibetan incarnation – feature film-making Tibetan Style – as Buddhist reincarnate master Khyentse Norbu transforms into movie director to shoot his debut feature 'The Cup'
Traditionally revered as Dzongsar Khyentse Rinpoche, his script is a charming insider's look at ancient Buddhist traditions facing modern challenges. It tells a story of real events at Dzongsar College for Buddhist philosophy, re-established in exile in India. Along with their scholarly studies, refugee monks have a new-found passion.
It is World Cup Football
'Life as Cinema' follows the very unconventional filmmaking processes of a charismatic Tibetan Lama. He uses mystical divination for all production decisions – which camera, when to shoot, which editor to use. Ceremonies and rituals to enlist surrounding spiritual forces are an integral part of the process. The normally serene ambience of the Tibetan monastery is transformed into a bustling film set; monks are transformed into actors, again via casting decisions of summoned oracles, to play characters just like themselves.
Their life is transformed into a cinema.
Much more than this, Life as Cinema illustrates a mysterious question. According to Tibetan Buddhism, the nature of reality is created by the mind. As this Tibetan master plays with the making of cinema and reflects the making of real life, Norbu's philosophical comments are reflected back through entertaining example. A comedic, thought provoking, surreal experience of his reality reflects back. Life is Cinema.
"You are the actor, you are the producer, and you are also the audience…
And that's how our life is… Just like cinema"
Dzongsar Khyentse Rinpoche ,
http://www.khyentsefoundation.org/lineage.html
College for Tibetan Buddhist philosophy in India
www.siddharthasintent.org/Tibetan/Chauntra.htm
http://www.khyentsefoundation.org/endowment.html#dcl
www.khyentsefoundation.org
www.khyentsefoundation.org/endowment.html
World Cup Football. (www.tnsa.info/homepage.html)
Diese Bücher könnten Sie auch interessieren
Besser als jede Bank
Wir brauchen deine Unterstützung! Die kann in Spendenform sein oder in Form von Mithilfe in ausgewählten Bereichen. Wenn du Lust und Zeit hast mitzuwirken, melde dich oder spende eine Summe deiner Wahl, um unsere Projekte zu unterstützen. Wir sind für jede Hilfe dankbar!